Six startups have been selected to take part in the seventh cohort of Leap Venture Studio, the accelerator program from petcare giant Mars Petcare and the non-profit Michelson Found Animals.
The accelerator aims to help grow the pet care startup ecosystem to support founders that are innovating in the pet care space, which market researchers have tipped to reach a value of USD $184.43 billion by 2030.
The announcement of the new cohort comes at an interesting time in the pet industry: While pet ownership remains high, owning a pet has become increasingly costly.
And The Wall Street Journal recently reported that 50% of pet parents have actively taken steps to reduce pet care costs in the past year, with over 25% skipping or delaying a vet visit or routine medication in order to save money.
Leap Venture Studio hopes to help reduce the cost for consumers by investing in companies that are working on more sustainable solutions for the pet industry, helping to make pet ownership more accessible. 
The 6 Leap Venture Studio Startups
Startups accepted into the Leap Venture Studio accelerator program come from a wide variety of backgrounds and geographical locations, and those selected have beat out dozens of other promising companies. The full list of companies includes:
Dr. Cuddles: A veterinarian-founded pet care company looking to revolutionize the industry by making "vet sense common sense" – empowering pet owners to better care for their pets through trusted education and innovative products. Dr. Cuddles aims to reduce the amount of visits to pet emergency rooms for treatable illnesses that pet owners, with a little more education and support, could handle themselves at home.
Tobipets.com: A one-stop-shop that connects pet brands, services, and vets with pet parents. The Costa Rican startup is a full-scale marketplace for everything pet related, helping to service what the US Department of Agriculture has called a "booming" Costa Rican petcare market.
Bundle x Joy: A startup on a mission to deliver premium nutrition, curated product bundles, and endless joy to every dog person. The female-founded company is purpose driven, giving 3% back to fund women in entrepreneurship and their local communities, according to their website.
MI:RNA: A veterinary diagnostic testing company using cutting edge science and artificial intelligence to diagnose disease in the early stages to help vets care for our pets. Founder and CEO Eve Hanks is a veterinary surgeon on a mission to help speed up early detection of disease amongst our furry friends.
Blue Pet Co: A company making a range of clean, marine-powered dog supplements, enriched with seaweed extracts designed to meet a dog's specific health needs, naturally and sustainably. Based in Ireland, the company works with a collective of seaweed harvesters to procure their ingredients.
Oncotect: A biotech startup committed to pioneering early screening of cancer risks in dogs using their urine. The company aims to replace expensive and invasive detection methods such as blood samples, biopsies, ultrasounds, CTs and MRIs with quick, inexpensive urine sampling.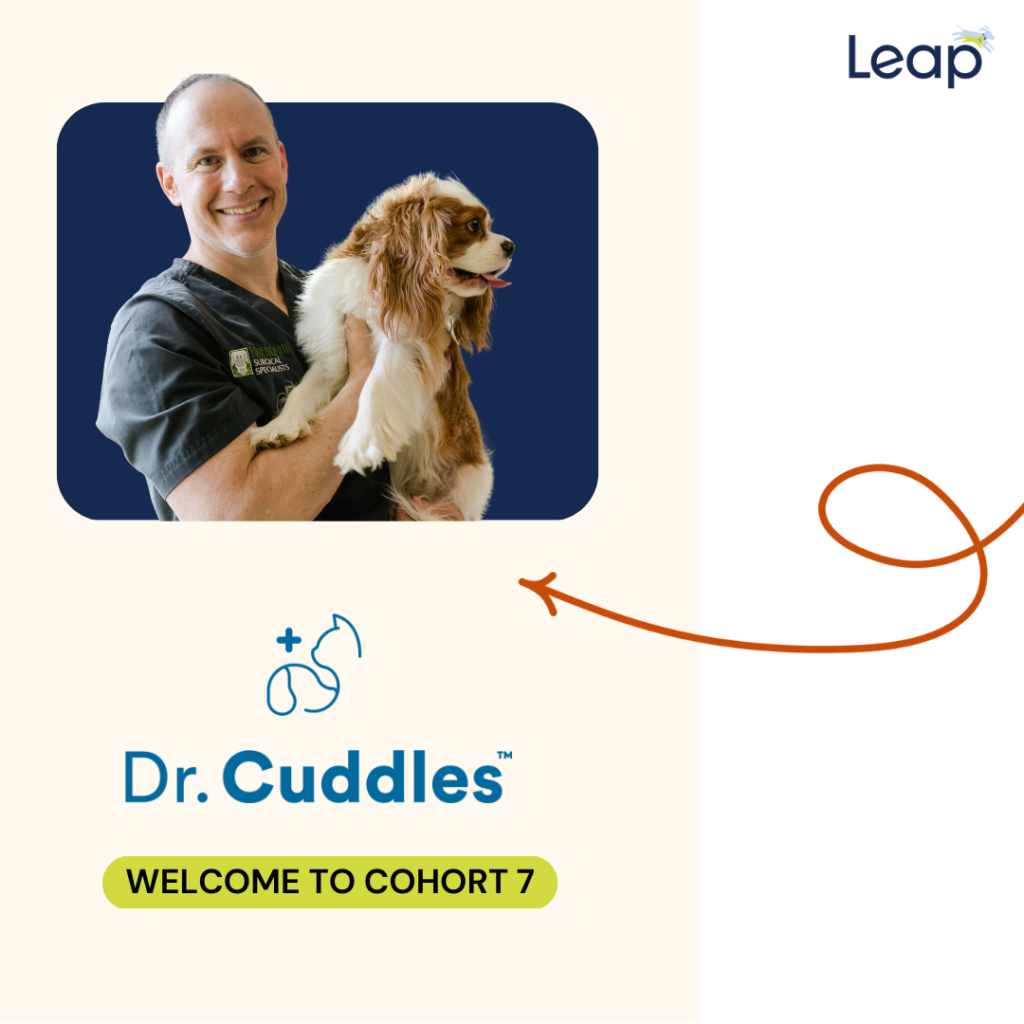 "We are thrilled to launch the next round of the accelerator program and provide startups with the resources they need to scale," said Brett Yates, CEO of Michelson Found Animals.
"Our goal is to support and empower the next generation of entrepreneurs and help them bring their innovative ideas to life to give pets an improved quality of life."
During the 12-week, hybrid in-person and online program, startup founders will benefit from access to resources, mentors, networking opportunities and brand marketing services specific to their needs.
Additionally, the startups will receive USD $200,000 in initial funding and access to industry experts, investors, and mentors from companies including Mars Petcare, Michelson Found Animals and R/GA Ventures, a venture funding platform.
To date, Leap Venture Studio has helped accelerate over 40 companies that have gone on to raise USD $170 million in follow-on capital.
The accelerator has also led two companies to successful exits: Lacuna Diagnostics (now part of Heska), offers digital pathology services for the veterinary market; and Pet Hospice (now part of Blue Pearl), a service providing comfort and care to pets and their families near the end of the pet's life.
Disclaimer: This article mentions a client of an Espacio portfolio company.