In a breakthrough for Europe's emerging crypto startups, three Swiss companies just completed the first tokenised real estate sale of the continent.
Swiss Blockchain technology startup Blockimmo was central to the transaction in providing the tokenisation platform to complete the activity. For achieving this technological milestone, Blockimmo partnered with Elea Labs and Swiss Crypto Tokens, equally hailing from the small Alpine country.
Elea is focussing on real estate, but with ambitions to be a "digitally driven pioneer". More specifically, the company is geared towards a future that implicates the tokenisation of real estate – up till now, a distant technological future for the Real Estate industry.
Swiss Crypto Tokens, on the other hand, is a crypto-startup established in 2018. The company has established a stablecoin which runs on the Ethereum platform. The coin is based on the Swiss Franc, meaning each token is pegged to the value of the Swiss currency.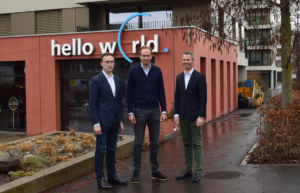 What is Real Estate Tokenisation?
Real estate tokenisation is the process of recording fractional ownership interest in property through the use of a blockchain-based token. One of the most prominent blockchains utilised for this purpose is the ERC20 Ethereum platform. The token employed by these three Swiss startups is based on that blockchain standard.
Tokens can be used to represent value in a wide range of assets,
including equity, commodities, or – as here – real estate
Tokens can be used to represent value in a wide range of assets, including equity, commodities and – as in this case – real estate. In compliance with recently clarified Swiss regulation in relation to Security Token Offerings (STOs), these systems legally represent an ownership interest in the underlying asset.
That ownership interest could come in a variety of forms: For example, equity in a legal structure that owns an asset, interest from debt which has been secured on real estate or income (rent) through cash flows from the real estate asset.
What is the benefit of tokenised real estate?
In most markets, property is an illiquid asset. It's less than straightforward to buy or to sell. Tokenisation makes is much easier for an investor to enter or exit the real estate market.
First, tokenisation opens up access to real estate globally, reducing barriers for international investors. Because of difficulties with the movement of money or regulations in individual countries, it is not always possible for investors to have access to an investment proposition they would otherwise be interested in. From the point of view of the developer, this system increases the potential to fund a project.
Second, through distributing the high asset value of real estate on smaller-denominated tokens, tokenisation can make it possible for smaller investors to get involved in larger projects. And lastly, tokenization promises less red tape, bureaucracy and costs involved as the process cuts out middlemen by design.
Blockchain-based tokenizations could be revolutionizing the traditional limitations of the real estate sector, believe the Swiss startups.
"Traditional property investments and their issuing programmes have barely moved forward", explains Bastiaan Dom, founder and managing director of Blockimmo:
"In Switzerland, you have a non-transparent market with asynchronous information that is difficult to access. This has a negative impact on the liquidity potential of the real estate market. By using blockchain technology, Blockimmo enables a solution to a problem, representing a paradigm shift for real estate ownership and trading.
"In Switzerland, you have a non-transparent market with asynchronous information that is difficult to access".
Bastiaan Dom, founder and managing director of Blockimmo.
The use of cryptocurrency has faced major criticism in recent times due to its volatility. That would have been a cause for concern in a property deal of this nature. However, through bringing in Swiss Crypto Tokens with its 'CryptoFranc' (XCHF), the transaction could be pegged against the relatively stable Swiss Franc.
"With the stablecoin CryptoFranc, we have developed a key piece of the puzzle for the Swiss blockchain ecosystem", believes the CEO of Swiss Crypto Tokens, Armin Schmid, celebrating the realization of what he calls the "future of real estate transactions".
Swiss 'crypto valley' keeps disrupting industries
The first real estate tokenization was completed last Friday in Baar. The municipality lies in the heart of what is dubbed the Swiss 'crypto-valley'. Approximately 3 million CHF ($2.98 million) – representing 20% of the overall property value – was tokenised as part of the deal. Four investors took an ownership stake in the property by buying the tokens.
As the actual transaction was carried out on the Ethereum blockchain and can be verified on the Blockimmo platform. Elena Labs input was to support the transaction through the provision of real estate data for the property. The company ensures that all data relative to the property is stored decentrally.
It is likely that we will see accelerated growth with regard to Security Token Offerings (STO's) in the coming months. For its part, Blockimmo intends to tokenise further properties in the not too distant future.
There are other players in the Swiss market who are in the process of making their own impact in terms of real estate tokenisation. These include SwissRealCoin, an investment token which is linked to a portfolio of commercial real estate assets for which the management is automated.
Token-estate is another Swiss startup which is developing a disruptive platform to facilitate faster, easier and cheaper investment in real estate companies. The company provides private companies and real estate asset managers with access to a broader range of financing options, with a more diverse investor base.
The worlds first real estate tokenisation was achieved in the United States by real estate and finance company, Elevated Returns. In Europe, progressive regulation by the Swiss Financial Market Supervisory Authority (FINMA) has created the right environment for these Swiss startups to get ahead of the game with a practice that is set to disrupt the conventional market.
The completion of this first tokenization in real estate should now send a strong signal to more European regulators, inviting them to follow the path for facilitating crypto innovation.
Originally posted on 150sec